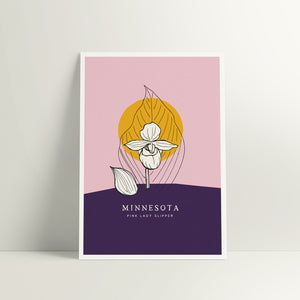 This elegant Art Print includes a hand-drawn illustration of Minnesota's State Flower, the Cherokee Rose.
PRODUCT DETAILS
Museum-quality printing with fade-resistant ink on a lush 19pt Savoy Cotton paper.
Available in ready-to-frame sizes:

5x7" (12.7 x 17.8cm)
8x10" (20.3 x 25.4cm)
11x14" (27.9 x 35.5cm)

SHIPPING & DELIVERY
Depending on availability, it may take between 1-5 business days to prepare your art print(s) for shipment. Art Prints are printed on demand (meaning I don't print them until an order is placed). Sometimes I have excess inventory which allows me to ship orders faster, but it can take up to 5-9 business days to deliver your cards. If you have a more urgent timeline, please let me know and I will do my best to accommodate your needs.

Art Prints are drop-shipped directly from the printer in order to keep shipping costs low and delivery times fast. However, it also means that I don't always get a chance to manually inspect prints for defects. If you are unsatisfied with your print for any reason, please reach out to us directly so we can make it right: info@thestateflowershop.com


WHOLESALE & CUSTOM ORDERS
Color and text can be customized upon request for an additional fee of $20. Wholesale pricing is available for orders of 10 or more. Please reach out to us directly for details: info@thestateflowershop.com.
Browse all Art Prints here.
Browse all Minnesota Products here.